Tel 0208 443 2207                        email woodstockjoinery@btconnect.com
Box Sash Window Replacement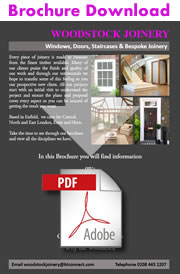 Our box sash windows are manufactured using traditional designs and craftsmanship.

We manufacture our box sash in hardwood timber only, this is a decision we made to produce the best product possible keeping the price competitive and the quality and durability far superior to windows made from hardwood timber.

All our sash window replacements begin with a full site inspection. We will take all measurements and discuss all your requirements while taking into
consideration the existing windows or doors which are possibly not being replaced.

A full range of glazing options are available which are energy efficient and compliant with all current building regulations.
To view our full range of glazing options please click here
Internal Sash Windows Photos
All our sash window replacements include either lead weights or spiral balance mechanism, sash pulleys, sash cord or chains.

Each window includes sash lifts, fitch fasteners and night ventlocks, keeping in mind at all times our clients safety and security within their home at all times.

The styles and finishes to choose from are varied and we always advise the best options possible for each individual or project.

We offer a full fitting service which can include the paint finish if required.
Testimonial

During my time as owner/ MD of Chartered Properties Bldg Ltd 1986- 2012 finding skilled and reliable joinery shops always proved problematic.
In 2008 we discovered Woodstock and since then have benefitted from the supply and their very high quality, competitively priced bespoke joinery, always engineered to precise dimensions and delivered on time.
They can be 100% relied on and I would have no hesitation in recommending them for all of your joinery needs however small or large.

Mr Ian G Reeves (Retired) MD
Fellowship Royal Institute Chartered Surveyors
Chartered Properties (Bldg) Ltd
External Sash Windows Photos
Testimonial

Dear Sue

I just wanted to write and say how happy we were with the recent replacement and installation of the sash windows in our Victorian property.

Could you please, please pass on our thanks to your guys who did the work and compliment them on their organised,

professional and polite behaviour while they were here.

We particularly appreciated how they understood that the property was occupied during works and all work areas were left really clean, tidy and safe at the end of each day — we hardly noticed that work was going on except for the obvious progress that was made daily.

The windows are beautiful and work wonderfully and I would be happy to recommend Woodstock Joinery to some other friends and colleagues who are considering similar work.

Finally I would personally like to thank you — your help in organising this work was invaluable and l really don't think it would have come together so smoothly without your attention to detail and the time that you spent ensuring that everything went to plan.


Best wishes to all

Caroline and Peter Hampstead
Contact Us
We will respond within 24 hours Mon-Fri, for urgent enquiries please call the office.